News Demon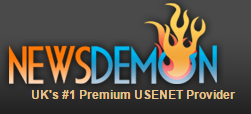 NewsDemon offers two different categories of pricing plans which are block and monthly. For the monthly membership plans, you can purchase the Beginner, Basic, Veteran, Pro or Platinum package. The Beginner, Basic and Veteran packages offer 50GB, 100GB and 200GB of data respectively. The other two have unlimited data and online storage, with Platinum adding access to a secure VPN. The block plans range from 10 GB at $2.00 to 1000GB at $87.00. The plans can be used for whichever duration you prefer, as they do not expire. You can renew your block allotment it is always available in case you run out, but it is not automatic. You have to approve the billing first.

Free Trial
NewsDemon offers a 7 day free trial to all their new customers. The free trial is however limited to 15 GB and a maximum of 20 connections. NewsDemon is also known for offering free Usenet to university staff, employees of charity organisations or media outlets and 25% discount for students.

Retention and Completion
The reliable retention of NewsDemon is 2273 days for binary news groups and 1265 days for text newsgroups. You should be able to find any of the old posts at any time. Of more importance is the completion rate. A very high completion rate of 99%+ is offered across all news groups.

Connections and Speed
NewsDemon allows you to max out the broadband of your connection. It offers the fastest connections with un-throttled access to news groups via 256-bit server connections. Their server farms are located in both Europe and the United States. Most of the plans offer up to 50 connections except for Beginner which offers 20 connections.

Newsreader
NewsDemon offers a selection of newsreaders that they can offer for their users. They differ mainly in terms in platforms they support as well as features and tools that they offer. Some of the newsreaders NewsDemon is compatible with include Newsrover, Newsleacher, Newsbin Pro, Shemes Grabit and Forte Agent.
Features
Autorecycling is NewsDemon solution to renewing your download limits before your monthly download limit is reached. You will be billed for your next months membership and that date will become your new renewal date. NewsDemon provides access to 107,000+ Newsgroups if you can't find the groups you are looking for just contact their support department and they will be glad to help you. They are now providing VPN access as well. They have a relationship with Slick VPN and offer openVPN, IPSec & PPTP VPN Protocols and have servers located in 123 cities and 41 countries.
Support
They have a high responsive and knowledgeable support group that offers 24/7 live support. They also run a blog that contains Usenet related news as well as a FAQ section. Their 24 hours live chat support is great feature.
Conclusion
NewsDemon offers both block accounts  and monthly accounts so you are sure to find what fits your Usenet Newsgroups requirements. News Demon definitely comes highly recommended.
Check out our Best Usenet Providers.